This article originaly from www.fashionbeans.com , written by Tom Banham. Photo by Thor Garlan from Pexels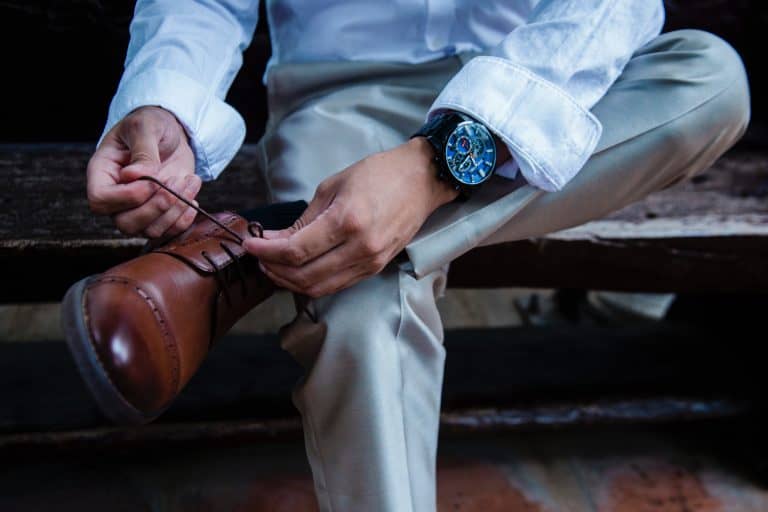 If it's true that a man's outfit is assessed from his shoes up, then it's their shade that first colours someone's judgement. Footwear, like everything else in menswear, has grown less rigid recently these days you can wear Oxfords with jeans and trainers with a suit. But the key to pulling either off is in colour-matching; get the shade wrong, and you can look like a car salesman on a night out or like you've changed into your comfy shoes for your commute.
And as with everything else in your wardrobe, nailing colour is at once the simplest and the hardest thing about getting dressed in the morning. It's easy to stick to tonal combinations black shoes with black trousers, brown shoes with tan chinos and never put a foot wrong. But it's a path that can swiftly lead to sartorial tedium as well as financial ruin. Unless you intend to only ever wear a couple of colours of trousers, you'd need a rainbow of footwear to give you enough options.
"A black pair of shoes would be the smartest colour, in my opinion, because it's an absolute must-have in every man's wardrobe," says Andrew Nicholas Vieira, senior director of men's product development at 
Aldo
. "Everyone needs a clean, simple black leather lace-up.
"Your next colour in line would be tan. That's where I'd recommend opting for a style with more detailing, like toe cap or 
brogue
. Overall, I don't believe there's a least-smart colour, but the true miss would be not exploring your options. My recommendation would be to have fun with your decorated silhouettes and keep your black pairs classic."
For the shoe colour novice, there are some basic rules to guide your choice each morning. Here's how to match clothes and shoes for guys:
Block colours are always smarter than anything multicoloured.
Generally, darker tones are smarter than lighter. They're more versatile, too.
Smartness is dictated by decoration as well as shade: black Derbies are smarter than tan, but chocolate Oxfords can be more refined than both.
Trainers and smart shoes obey different rules: white Oxfords are slightly weird, but white trainers will work with anything in your wardrobe.
It doesn't matter what colour your shoes are if they're scuffed. Find a polish that matches, or a neutral polish if you've gone for something wilder, and keep them in good nick. They'll last longer, too.
If you're wearing something bright on your feet, then anchor them with neutrals elsewhere. Bold shoes are easier to pull off if you're not also wearing a Hawaiian shirt.